Ecosystems and
Watershed Management
The GRDA Ecosystems and Watershed Management Department was established in 2004 to bring a greater focus to watershed management and environmental stewardship. Today, it focuses its efforts on the Grand Lake Watershed, which spans four states including Kansas, Missouri, Arkansas and Oklahoma and culminates into one of the most popular recreation destinations in the region: Grand Lake.
Because Oklahoma only encompasses approximately nine percent of the watershed and the majority of Grand Lake's water supply originates from neighboring states, GRDA realized it could not face the natural resource challenges alone. Thus, the underlying theme for the department has been to build cooperative relationships to facilitate communication and efficient utilization of resources necessary to accomplish GRDA's conservation and restoration goals.
In 2016, GRDA absorbed the mission of the former Oklahoma Scenic Rivers Commission (OSRC). Since then, the department has worked to duplicate its natural stewardship efforts along the Scenic Illinois River and its tributaries in Oklahoma.
To fulfill its commitment to proper environmental stewardship, the GRDA Ecosystems Management Department operates an ongoing water quality research program on all the waters under its control, including the Grand River and Illinois River systems.
The department accomplishes this with a state-of-the-art water quality research laboratory located inside the GRDA Ecosystems and Education Center in Langley, to focus primarily on lake waters.
Additionally, the department operates a laboratory on the campus of Northeastern State University in Tahlequah, Oklahoma, near the Illinois River, to focus on river waters.
Since its debut in the spring of 2007, the GRDA Ecosystems Management Department's innovative Rush For Brush program has served to enhance the fisheries of GRDA waters.
Simulating natural brush piles, these structures provide protection to fry and fingerlings while staying in place and lasting longer than natural brush piles. This fisheries enhancement helps GRDA to meet its mission as a good steward for the natural resources under its control.
The program has won multiple awards, including the "State Government Program" Award from Keep Oklahoma Beautiful and the "Outstanding Stewards of America's Waters" from the National Hydropower Association.
The Grand Lake Adopt the Shoreline program is designed to enable participants to organize cleanups through shoreline adoption, with assistance and resources provided by GRDA.
The program is the result of a coordinated effort among GRDA, Grand Lake Power Squadron, Grand Lake Association, "Grow with Grove" Steering Committee and community volunteers.
If you are interested in joining the program, please contact GRDA. Also, be sure to take a look at the Adopt the Shoreline Membership Handbook .
We look forward to working with you in "Keepin' it Grand."
Guard the Grand is an educational program with the goal of fostering an ethic of environmental stewardship in Oklahomans residing in watersheds that flow into Grand Lake..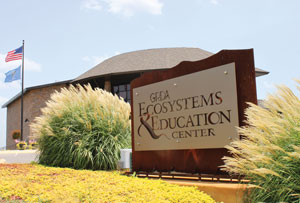 GRDA Ecosystem & Education Center P.O.Box 70, 420 E. Hwy 28 Langley, OK 74350, 918-782-4726